Heat Pumps- A Smart Alternative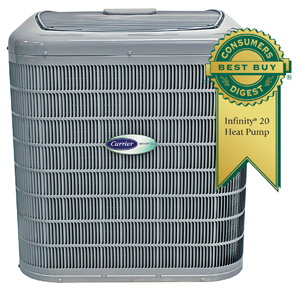 Heating, cooling and dehumidifying…heat pumps can do it all. Surprising given the name, we know.
Heat pumps do the same job as a normal air conditioner, but when the winter months hit, they kick into warmth mode. In warmer climates, some homeowners rely exclusively on these units year-round. In climates like Southern Michigan, when paired with your oil or gas fueled furnace as a Hybrid Heat® solution, it can result in significant savings on your overall heating costs.
Infinity® Series Heat Pump with GreenSpeed™ Intelligence
The pinnacle of Carrier® engineering, the Infinity series heat pump with GreenSpeed intelligence offers precise heating and cooling, unwavering comfort, uncompromising energy efficiency and ultra-quiet cooling performance.
Infinity® Series Heat Pumps
All Infinity models and sizes have earned ENERGY STAR® qualification, which means your heat pump is engineered to run extremely efficiently while both heating and cooling your home. The Infinity series heat pump is part of an intelligent, communicating system that delivers superior comfort and quiet performance.
Performance™ Series Heat Pumps
Performance, flexibility, and efficiency series was just too long of a name, but this series can certainly provide all three.
Comfort™ Series Heat Pumps
Get economical summer dehumidification and air conditioning as well as cold-weather heating performance with the comfort series.